Special Dispatch No. 5171
Jordanian Journalist: 'The Protocols Of The Elders Of Zion' Are The Basis For Jewish Actions Against Islam And The Palestinians
Rashid Hassan, a columnist for the Jordanian daily Al-Dustour, claimed in an October 30, 2012 article that The Protocols of the Elders of Zion were the basis for the Jews' actions against the Palestinians and for their takeover of the world's decision-making mechanisms. According to Hassan, the Jews are behind the smear campaigns against Islam and the Prophet Muhammad, and Arabs must read the Protocols in order to understand the Jewish plot.
Following are excerpts from the article: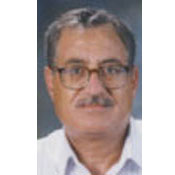 Rashid Hassan
"During the holiday vacation, I reread The Protocols of the Elders of Zion, [as translated] by the Arab thinker 'Ajjaj Nuwayhed. Without exaggerating, I discovered that these Protocols explain what the Zionists are doing in occupied Palestine and the world, and illustrate the evil of the Zionists. The Jews are indeed taking over world markets, banks, media, etc., and it seems that they control many of the decision[-making] mechanisms in the U.S., Europe, and elsewhere."
Special Dispatch No. 5170
Pakistani Columnist On The Holocaust: 'The Jewish Race Would Have Become Extinct… But Allah Had To Keep This Symbol [i.e. The Jews] Of The Slayers Of Prophets, Of Ingratitude, Of Humiliation, And Of Misery As A Lesson 'Til The End Of This World'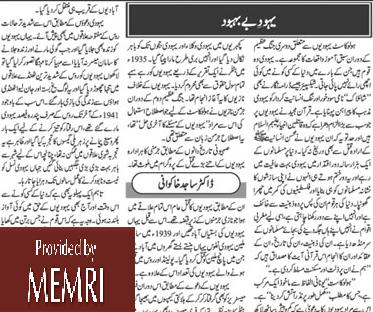 On January 28, 2013, the Urdu-language daily Roznama Islam published an article by Pakistani columnist Dr. Sajid Khakwani about the Holocaust. The daily is simultaneously published from the cities of Karachi, Lahore, Peshawar, Rawalpindi, Multan and Muzaffarabad.
Following are excerpts from the article, which is titled "Yehud Be-Behbud" ("Jews, Not to Prosper"):
"The Greatest Accusation That The Holy Koran Makes Against Jews Is That They Are The Killers Of Prophets… [Including[ The Benefactor Of Humanity, Prophet Muhammad"
"The Holocaust is the aggregate of lesson-learning incidents during the World War II about Jews. The Jews are a nation about whom no one around the world has a good opinion. A playwright like Shakespeare also created the character of Shylock, who is a usurer and a stain on the face of humanity, and depicted him as a Jew."

Please remember the environment before printing.